If you're the kind of person who loves group fitness classes but would like to take your workouts to the next level  Small Group Trainings (SGTs) may be the place for you!
Current and Upcoming SGT's
A full body workout, interval style strength and cardio challenge on "The Rock FTS".
Stay tuned for the next Boot Camp.
Running Clinic is a 4-part series great for recreational runners and runners with a history of injuries. Learn valuable information from Steve Kerr, physical therapist.
Stay tuned for the next Running Clinic.
TRX is a suspension training system designed to use your body weight as the resistance. Space is limited since there are only 7 straps available.
Stay tuned for the next TRX series.
What are SGT's
SGT's are programs that we run for a short period of time with a specific focus, such as TRX or Boot Camps.  These trainings have a limited number of space available and are always led by a certified trainer.   The small group sizes allow for a more personalized experience and the trainings focus on a specific workout or training style, allowing you to make huge improvements in your fitness level and knowledge of the particular series.
Small Group Trainings typically run as a series, lasting anywhere from 4 weeks-3 months and occurring 1-3 days a week during the series.  You are not required to attend every training in the series however, the greatest benefit can be found by completing a series in it's entirety.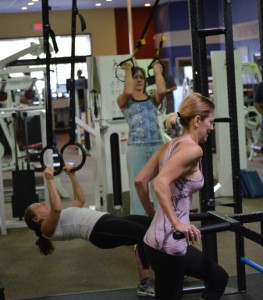 SGT Cost
SGT's are offered as an additional service to a FitnessWorks gym membership.  The beauty of our Small Group Training tickets is that they can be used for ANY small group training at FitnessWorks.
Package of 20 SGT's: $180 (save 10%)
Individual SGT class: $10 (1st is FREE)
Non-Member Drop-in: $18 (includes all day gym access)
Small Group Training (SGT) Procedures:
Small Group Training (SGT) tickets need to be purchased prior to making your reservation ($10 each). After clicking the "Join Now" button, go to "Shop" and purchase SGT ticket(s) 

before

making your reservation under  "Classes".
Reservations must be made at least 12 hours in advance of your training.
Cancellations must be made at least 12 hours prior to your training to keep your ticket.
Purchase your SGT ticket(s) AND reserve or cancel your spot online, on your iPhone, or by talking to our Front Desk team.
"No-show"s will be charged their SGT ticket.
You may reserve all or some of a whole series in advance.
Attendance of 2 participants or less will cancel the training.